NEU JETZT BEI UNS VERFÜGBAR DER OPTISHOT 2 – weiter verbessert und noch genauer!!!
Ein richtiger Golf Simulator für ihr Wintertraining
Aktueller Preis für Optishot2 und kaufen können sie den Optishot2 in unserem Golf Simulator ONLINE SHOP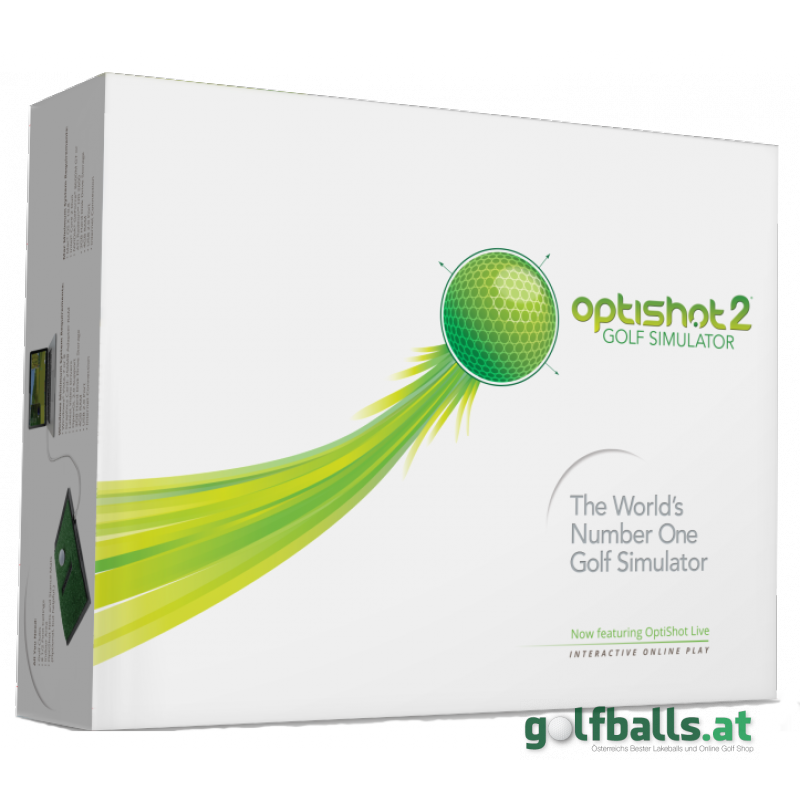 Die Distanz und die Richtung eines Schlags werden bei Treffmoment ermittelt. Ernsthafte Simulation nutzt höchst fortschrittliche Methoden, den Treffmoment zu erfassen und diesen dem Spieler bei jedem Schlag in Echtzeit, visuell zu übermitteln. Optishot kann aber nur Indoor verwendet werden.
Optishot kombiniert hochentwickelte optische Sensoren Werte in 3D – Originalgetreu nachempfundene Golfplätze. Besser geht es nicht!!!
Funktionen:
Wachsendes Golfplatz-Archiv weltberühmter Golfplätze
Spielen Sie mit bis zu vier Spielern
Schlagen Sie vom Tee bis Grün
Benutzen Sie Ihre eigenen Schläger
Putten Sie selbst oder wählen Sie Auto Putt
Unglaublich realistisch – Ultra präzise Golf Simulation
Präzise Schwunganalyse
Sechzehn hochentwickelte optische infrarot Sensoren vermessen präzise Ihren Schläger durch die Treffzone und erfassen die Begebenheiten bei Aufprall.
Schlägerkopfgeschwindigkeit
Schlägerkopfwinkel
Schwungrichtung
Toe/Mitte/Heel – Schlägerkopfkontakt
Visuelles Feedback bei jedem Schlag
Wozu Indoor Golf?
Es bietet Spaß für die ganze Familie!
Stundenlanger Spaß beim Golfspiel Zuhause. Kinder lieben es! Ideal um neue Spieler für das Spiel zu gewinnen und Freunde zu unterhalten!
Verbessern Sie Ihr Spiel
Jeder gute Lehrer weiss, dass spielen mit gleichzeitigem Feedback die optimale Lehrmethode ist. Es gibt keinen besseren Weg Ihr Spiel von Zuhause zu verbessern.
Einfache Installation
Installieren Sie die Software und schliessen Sie die optische Schwungmatte an Ihren Windows Computer an. Üben Sie mit Ihren eigenen Schlägern bequem von Zuhause und schlagen Sie echte Bälle, Schaumbälle, oder einfach keinen Ball. Spielen Sie ganze Golfrunden mit bis zu vier Spielern auf den berühmtesten Golfplätzen der Welt.
Platzbedarf:
Ein Raum mit 2,30 Meter Raumhöhe (Standardkellerhöhe) reicht für Eisen und Hölzer im Normalfall aus
2,5 Meter entfernt x 2 Meter breit vom Impact Screen oder Netz
Optional Impact Screen / Netze usw.
Wir bieten individuell auch Abschlagmatten, Impactscreens, Schutznetze und Aufbauhilfe an, bitte rufen sie uns für detailiere Informationen einfach an !
Optishot 2 eine Runde
English Information:
A real Home Golf Simulator for your Winter Training
INFO HOTLINE
+43-664-5174720 – Mo.-So. 9-20h
OPTISHOT2 GOLF SIMULATOR is the world?s number one. The award-winning OptiShot2 Golf Simulator unites the latest technology with ease of use. It?s compact enough to fit in a briefcase, yet sophisticated enough to produce results. Designed to work with every club in your bag, it requires no big set-up or big expense. In fact, with an OptiShot2 Golf Simulator all you need is space enough to swing your clubs and a desire to improve. With that, you?ll lower your scores. Guaranteed.
OptiShot Golf designers and engineers are leaders in the world of golf analytics. Through continuous research and development, the award-winning OptiShot2 Golf Simulator has a swing and ball-shot accuracy that is just like playing real golf. OptiShot2 has sixteen precisely-tuned, high-speed 48MHz infrared sensors. Each is calibrated to track your favorite clubs, before, during and after contact, giving you precise and instantaneous feedback on every shot. Over and over, it?s cutting-edge software and breakthrough design records, tracks and improves your swing until you throw darts.
The perfect swing needs perfect feedback.
Get instant and detailed feedback on:
Club head speed +/-2.0 MPH
Face angle +/-1.5
Swing path +/-1.9
Distance traveled
Face contact
Swing tempo
Shot shape
It?s like a golf pro in a box.
Just a few hours a week, you will…
Get closer to the pin
Groove your swing
Gain confidence
Get to know your clubs exact distances
Enjoy your game even more
Play without green fees or membership dues
Save time, gas and money
optishot golferwhispering dunes Improves your swings.
Daily.
Highlights:
Play 18 holes in under an hour
Use your own clubs to hit real or foam golf balls
Hit every shot from tee to green
Play on world-famous courses
Sets up quickly and easily in small spaces
Instant visual feedback and results
Option to display on Hi Def TV or with projector
Shoot full rounds with up to four players
Immersive, realistic 3-D environment
Ultra high-def graphics
See your shot patterns
Play to learn. Learn to play.
Choose between two modes:
Practice Mode
Turn any OptiShot Course into your own practice range
OptiShot PinPoint Practice tracks and records your progress
Six different target greens improves your shot accuracy
Precision rings & accuracy grid get you closer to the pin
Driving-accuracy mode fosters straight fairway shots
Set up the same shot over and over or follow the ball to the hole
Visual feedback of each shot, includes full session data display
Play Mode
Choose from an exclusive library of world-class OptiShot Courses
Experience a fully-immersive and realistic playing experience
All swing data tracked and stored for analysis
Play full rounds with up to four players
Par-3 tees included for all courses
Game Types
Stroke Play
Better Ball
Match Play
Best Ball
Stableford
Skins
Alternate Shots
Custom Game Lengths
And More
Multiple camera views
Multiple putting options
Precision putting grid
Green & fairway speed control
Left and right-handed play
Custom club sets
Player management system
Standard or metric measurements
Weather customization
Ambient nature sounds
Drop ball option
Game save and resume
OptiShot Gold Courses are included with every OptiShot2 Golf Simulator:
? The Golf Club Scottsdale
? Long Island Black
? Torrey White
? Torrey Black
? Palm Desert Mountains
? Palm Desert Canyons
? Barsebäck Golf Club
? Black Mountain
? The Canadian Club
? Österåkers Golf Club
? West Maui Plantation
? Warwick Hills Golf &
Country Club
? Fylde Links
? Cogs Corner
OptiShot Platinum Courses may be added to your OptiShot2 Golf Simulator (OPTIONAL)
? Valhöll
? Hoylake
? Course No. 2
? Monterey Classic
? Old Scot
? Ponte Vedra
? Whispering Dunes
? Capitol Club
? Royal St. Marks
? Atlanta Highlands
? Jones Lake
? Melbourne Golf Club
? Golden Gate Club
? Carolina Ocean Course
? Windy City Club
? Red Wickers
? Firth of Forth
OptiShot2 Golf Simulator Includes:
Infrared Optical Swing Pad
OptiShot Golf 3D Software
USB Cable (10 ft.)
Foam Practice Balls
Adjustable Rubber Tees
1,2,3 Start Guide
1 Year Warranty
Software updates